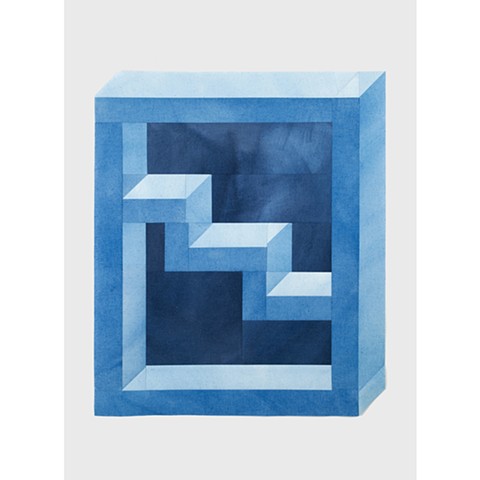 Blue Stair Capriccio, 2022, acrylic ink on cotton muslin


ABOUT
Gabrielle Teschner is a sculptor with roots in Virginia and California. Her work can be found in collections nationally and internationally, including Soho House Istanbul, Soho House Malibu, Goodtime Hotel Miami, Facebook HQ California, and the De Young Museum in San Francisco's Golden Gate Park.


FIND ARTWORK IN THE WORLD
Additional collections and permanent installations include Google San Francisco, Ritz-Carlton in Washington DC, Four Seasons Fort Lauderdale, Capital One Lounge in Dulles Airport in Washington DC, Yammava Resort in San Manuel, Park Hyatt Toronto, FORSITE San Francisco, and MIRA in San Francisco.
FIND ARTWORK FOR YOUR WORLD
Visit THE TAPPAN COLLECTIVE for regular launches of new work available for purchase.
Visit the Available Works Page on this site to find a list of works currently available from the studio.


NEWS
POP-UP EXHIBITION
"MYTHS" at Art-Artefact in Richmond, VA through May 6th, by appointment. 19 Flower Paintings & New Sculpture-That-Are-Flat. Open House First Friday May 5th 9am-5pm. ART ARTEFACT
ARTICLE JUNE 2022
Article and Interview with Dana Covit in art and design magazine SIGHT UNSEEN
EXHIBITION
"Forest for the Trees", Solo show First Friday May 6th, 2022 at Reynold's Gallery Main Street, Richmond location. 5-7pm. Wonderfully excited to share all new work exploring the botanical origins of Classical architecture, the Corinthian capital, and polychromy. Show Closes June 24th.
EXHIBITION
"Hot House" Feb 4 in my hometown Gloucester, VA at Gloucester Arts on Main. Feverish debut of Flower Paintings shown alongside new monoliths in towering heights and tropical hues.
ARTWORK on a WINE CAN
"A Living Thing", made in Key West, is printed on Nomadica's new Sparkling White. Order on their website. Free shipping!
HOTEL ART
The Goodtime Hotel in Miami features 4 original Sculptures-That-Are-Flat throughout the lobby and a print in every room!
NEW WORKS LAUNCH, APRIL 2021
New release in a bold palette at Tappan Collective. In the meantime, check out my "TROPICAL BRUTALISM" collection.
FACEBOOK AIR AND INSTALLATION, DECEMBER 2020
At 16-feet tall and 14-feet wide, "The Unenterable Garden" was hung at the new Frank-Gehry designed Facebook Headquarters in Menlo Park, CA. Unveiling and photos to come, April 2021.
ARTIST RESIDENCY SUMMER/FALL 2020
I will be an Artist-in-Residence at Numeroventi in Florence, Italy for One Month (Delayed Until Borders Relax)
OPEN STUDIOS
October 17th, 2019 at 1525 S Broadway, Downtown Los Angeles 6:30-8:30
ARTIST RESIDENCY FALL 2019
From September to October I will be an artist-in-residence in Los Angeles at The Tappan Collective
ARTICLE JAN 2019
Artist Spotlight on BOOOOOOOM!
EXHIBITION, MÉRIDA, YUCATAN, MÉXICO, JAN 17 2019
Mirame Mérida AT LAGALÁ
A solo presentation of new work made under the influence of this ensorcelled city. On view through March.
GRANT
ANDERSON GALLERY SPACE GRANT, RICHMOND, VA, SUMMER 2018
For the months of June and July I will be working on an exciting new project in a beautiful gallery space on the 3rd floor of the Anderson Gallery on the Virginia Commonwealth University campus...please plan a visit!
UPDATE: The Anderson Gallery Grant allowed me the opportunity to create my largest sculpture to date, "The Announcement"--a 9 feet tall, 21 foot wide colonnade chromatically informed by Ad Reinhardt's "Red Painting" in the permanent collection at the VMFA, a painting I visited regularly during the grant period.
ARTICLE AT ANOTHER MAG
EIGHT EMERGING ARTISTS TO BUY WORK FROM NOW
RESIDENCY, LOS ANGELES, FEBRUARY 2018// As an artist-in-residence of the Tappan Collective, I created new works inspired by the climate of Los Angeles as well as an installation in their Koreatown Atelier storefront space. See the installation here.
INSTALLATION
Extra Extra! Sea Wall hung vertically for the exhibition "Edge Out" in LA's Arts District.
ARTICLE AT ELLE.COM Six Female Artists to Get to Know Now
EDITORIAL
at Tappan Collective about My Process including 2 "Unfolding" videos
WEBPAGE
Select works now available at artsy.com
GALLERY
Very excited to be joining LA's Tappan Collective.
Read my Interview and view Available Works On their site!
AUCTION
Blue Minute #3 available at auction online until Oct 21st Paddle8 Auction
RESIDENCY, KEY WEST, OCT/NOV at The Studios of Key West, FL
October 19th Artist Talk "Sea House" 6PM Eaton St Studios
REVIEW!
"In The Offing" closed March 26th with new work and a Walk-to-the-Sea at Irving Street Projects. Featuring an evolving exhibit and the two largest works on fabric (sculpture that is flat) I've made yet. Read the beautifully-written wrap by Vanessa Kauffman in Art Practical.
EXHIBITION
Summer Group Show, Euqinom Projects, SF, July 27th-August 27th, 2016
View Pictures of the Exhibition HERE
RESIDENCY, SAN FRANCISCO, JAN-MARCH 2016
IRVING STREET PROJECTS ARTIST-IN-RESIDENCE
As an artist-in-residence at Irving Street Projects in the Sunset district, I considered the ocean (a few blocks away) as a great force capable of drawing all structures into its depths.


/SOMETHING NEW/
The Foundation-Free Newspaper, the news to free you from all news, concluded in its Sixth Edition. /SUBSCRIBE TO THE FOUNDATION-FREE NEWSPAPER/